Get Started
This course is currently closed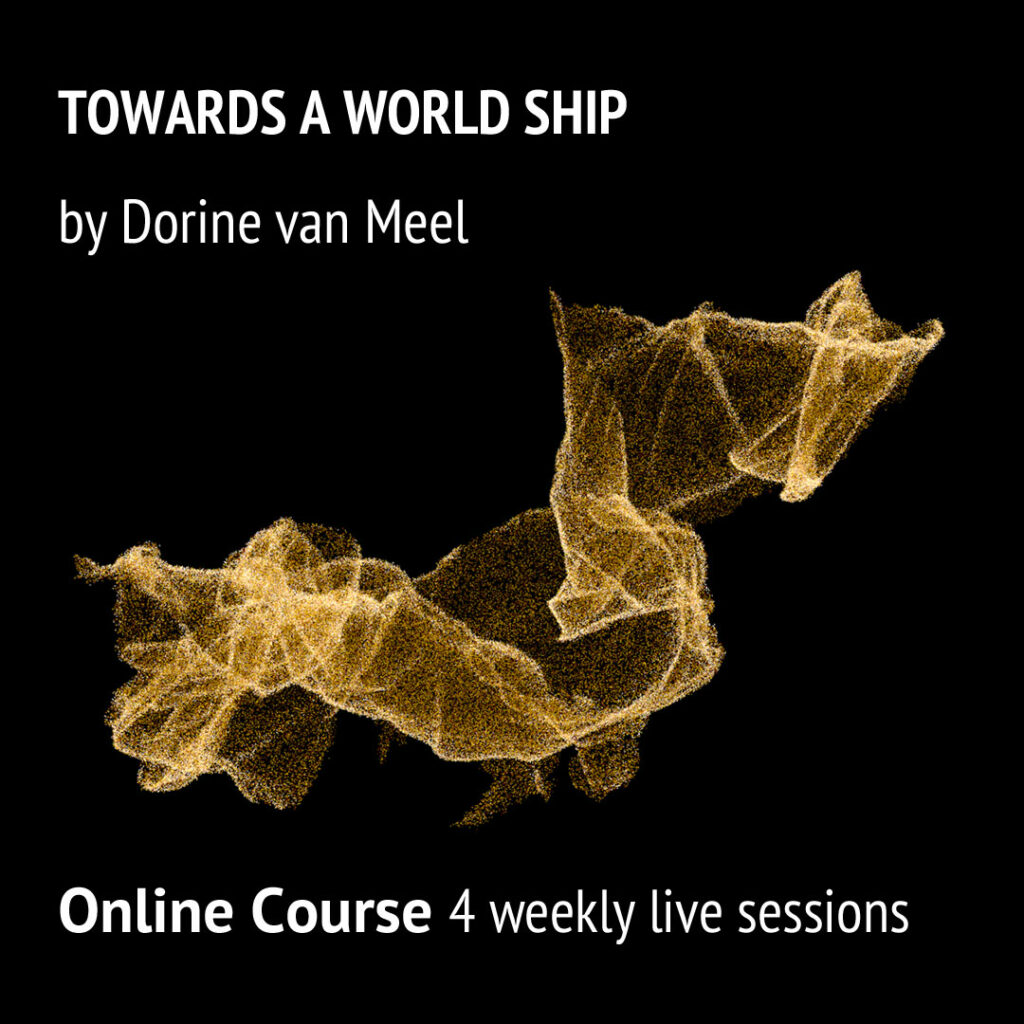 Participants are invited to critically analyse key texts both individually as well as collectively.
Participants will get the opportunity to develop their writing skills via a number of assignments.
Participants will participate in feedback sessions.
Participants can experiment with voice-over and video making and get feedback.
Reference materials (essays, poems and artworks) will be provided and collectively discussed.
Enroll now as seats are limited:
Min. seats: 5 | Max. seats: 30 | Language: English
Online Course TOWARDS A WORLD SHIP: Understanding The Ecological Crisis Through Arts by Dorine Van Meel
"The unfolding ecological catastrophe is one of the most pressing challenges of our times. The devastating consequences of economies based on extraction and exhaustion can be found in dilapidated lands, rivers, seas and oceans, forests, animals, plants and peoples. In this course we will look at a few theoretical texts as well as poems that discuss the climate crisis and its foundations as it unfolds on different islands located from the Pacific Ocean to the Caribbean Sea. The threads of rising sea levels, dying coral reefs and multiplying storms are only further additions to the ongoing violence of the (neo-)colonialist practices that have devastated the different islands and their many inhabitants for centuries already. As a participant of this course you will be invited to respond to these texts via short writing assignments, which will take the form of letters / emails, interviews, reflections, and short videos. We will take Ferdinands proposal of building a world ship as a prompt for the assignments." (Text & photo Silent Echoes, HD still, 2022 by courtesy of Dorine van Meel)
Your BAI Online Course Instructor
Dorine van Meel (1984, NL) is an artist based between Brussels and Amsterdam who's practice manifest as video installations, performances and collaborative projects.
Van Meel's solo work has been shown at the South London Gallery (London), the Berlin Biennale for Contemporary Art (Berlin), W139 (Amsterdam), Extracity (Antwerpen), Transmediale (Berlin), Nottingham Contemporary (Nottingham) and KW Institute for Contemporary Art (Berlin). Her interest in discursive practices, feminist methodologies, and self-organised forms of collaborations is reflected within the collective projects she initiates, including "The Southern Summer School" organised with Nelmarie du Preez at BAK in Utrecht and "Gentle Dust" organised with Rianna Jade Parker at Jupiter Woods in London and at the Berlin Biennale.
She teaches at the Rietveld Academie and the Sandberg Instituut in Amsterdam, where she will run a new masters programme called "Planetary Poetics" starting in the autumn of '23. 
Save the dates in your calendar
The live sessions for this course will be given on Tuesday February 28, March 7, 14, 21, 2023, each day from 4 – 6 pm (Berlin time). You will also receive an email reminder for each video conference before it takes place.
Recording of Live Sessions
We record the live sessions so that they remain available for a logged in course participant until one week after the last session. Please check before booking a course the technical requirements as listed below.