Get Started
This course is currently closed
Please note that BAI will record the live sessions and check before booking a course the technical requirements as listed below.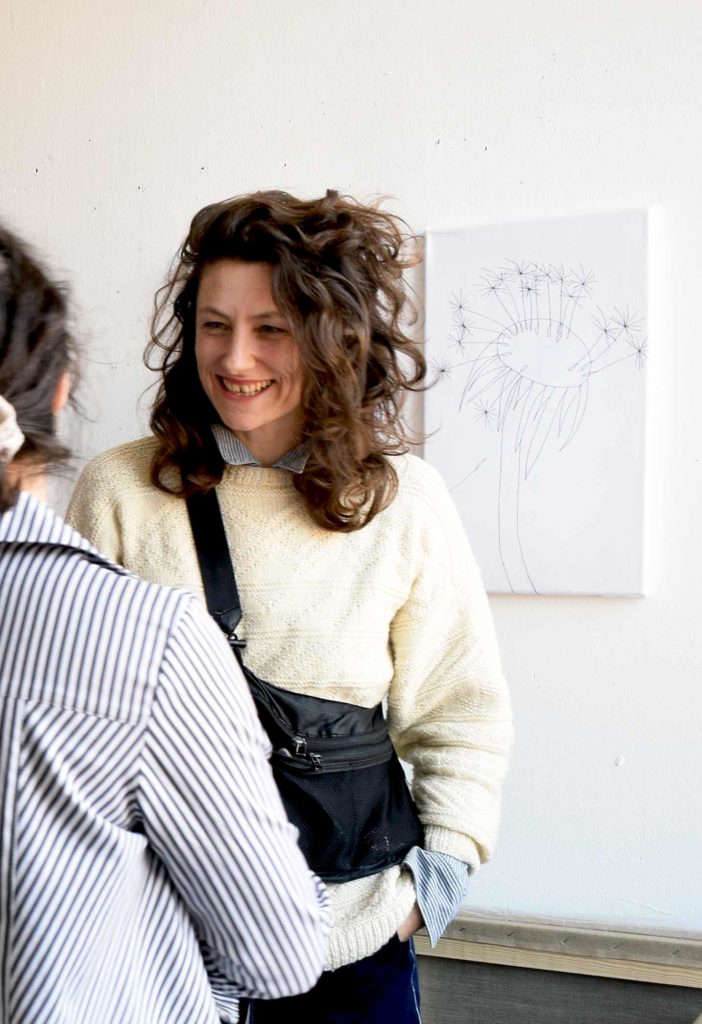 Emma Waltraud Howes is a Berlin-based visual artist/dancer and choreographer originally from Toronto, ON, Canada. As translations between movement and form, her works manifest as multiple reconfigurations of the body and space informed by her background in dance, performance theory, and the visual arts within the frame of a conceptual art practice. Her labor is guided by observations of gestures with a focus on the development of an expanded choreographic practice incorporating public interventions, kinaesthetic and architectural research, and an underlying drawing component in the form of graphic scores for performances – compositions representative of a stage in the development from concept and intention to depiction and effect. Howes studied Ballet and Baroque Opera before becoming a company member with the Canadian Contemporary Dance Theatre. She holds a certificate in professional dance from Toronto Dance Theatre (1997); a BFA from Emily Carr Institute of Art and Design, Vancouver (2002); a joint MFA in Open Media from Concordia University, Montreal (2008) and The Bauhaus-Universität, Weimar (2009); and ran a martial arts school for ten years. 
She has been a grant recipient from the Stiftung Kunstfonds Bonn, Canada Council of the Arts, The Québec Council for the Arts, the Banff Centre for the Arts (Canada), the Senatsverwaltung für Kultur und Europa, and Goldrausch künstlerinnenprojekt art IT, Berlin. She was the Québec Council Artist in Residence at the Künstlerhaus Bethanien in Berlin, 2014, and The Canada Council Artist in Residence at ACME Studios in London, 2018. 
Her most recent solo and collaborative productions include: UNFURL: a lucid science fiction, 11th Berlin Biennale, Martin Gropius Bau, Berlin (2020); Some Murder Theatre in Here, Volksbühne Grüner Salon, Berlin (2020); Scores for Daily Living, ZIL Cultural Centre, Moscow (2019). She has performed with and for: Joan Jonas, Georgia Sagri, Lundohl & Seitl, Jeremy Shaw, BODYSNATCH, amongst others; and facilitates lucid sci-fi labs in all things exubeRANT with her long-term co-conspirator Justin F. Kennedy.  
Online Seminar THE ROYAL ROAD TO THE (sub)CONSCIOUS: Improvisation and adaptability as life tools in times of precarity by Emma Waltraud Howes
"The Royal Road to the (sub)Conscious is a four-week course dedicated to the ritual of "soft head-banging" and the practice of improvisation and adaptability as life tools in times of precarity. In contrast to the violent head-banging associated with death metal music, "soft head-banging" instead appropriates the gesture and transforms it by emphasizing bodily care. In the guided process of the workshop participants are encouraged to amplify their movements and express their personal intentions with clarity to the furthest reaches of their capabilities and imagination.
The interdisciplinary online course will introduce practical tools and material methods to support a diverse studio practice. Exercises will be divided into four-weekly cycles that will progress over time, and will include: writing, collage, drawing, notation techniques, and 'tea cups'—an exercise from the Chinese martial arts Bagua, a system for practicing a circular sequence of movements for managing multiple opponents at once. The process-oriented course is intended to reference durcharbeiten (a process of working through, by means of labor)—a method used in psychoanalysis whereby a person learns to accept elements of the unconscious to free themselves from a compulsion to repeat.
BENEFITS
The central focus of this course will emphasise movement to breath dynamism into your theoretical, physical and material practice. The weekly sessions will provide inspiration by accentuating techniques to expand your physical skill-sets, while encouraging long-lasting benefits through the application of technical methods.
You will be offered a bucket of tools to draw from, through practical exercises to increase your focus and concentration, as well as systems to map out your ideas and see them through from concept and intention to depiction and effect. You will gather resources, and work with collage as a tool to expand your visions. 
Further systems to clarify your aims will emphasise drawing skills through exercises to relax and loosen your grip. This will include a concentration on how to translate movement from an interior world to an outside eye, and eventually into material form." (Text & image by courtesy of Emma Waltraud Howes; photo: Archaic Remnants, 2020, photo collage)
Min. seats: 5 | Max. seats: 30 | Language: English
"Just finished a great ecourse with Emma Waltraud Howes. It gave me ideas about new directions to explore in my work and different techniques around bringing embodied knowledge to life. It was experiential and Emma bought lots of energy and insight. Totally recommend it."
Save the dates in your calendar
The dates for the live lectures for this course will be published soon. You will also receive an email reminder for each video conference before it takes place. 
Recording of Live Sessions
We record the live sessions so that they remain available for a logged in course participant until one week after the last session.