Get Started
This course is currently closed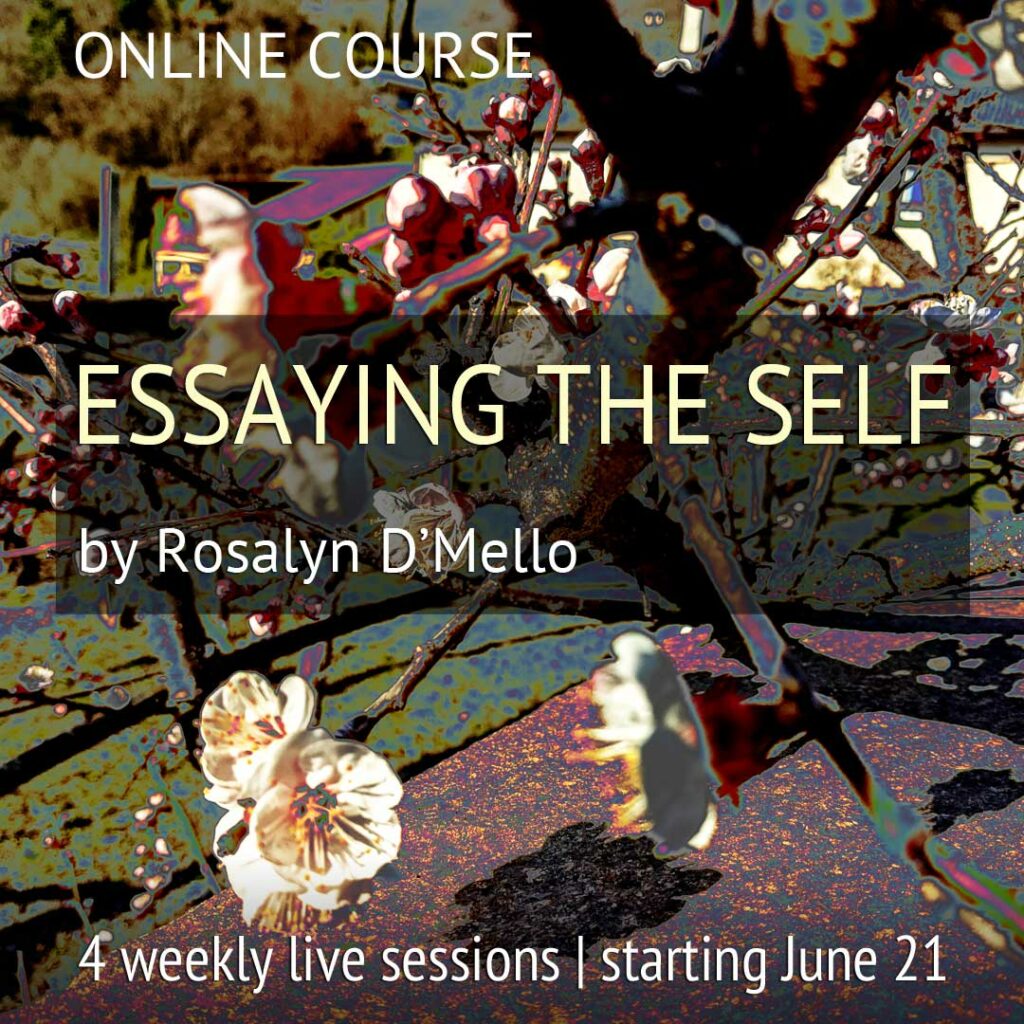 This course will positively impact anyone who has the desire to write, and is particularly useful for those who want to explore memoir, autotheory, and autobiography as a genre.


The host relies on intersectional feminist methodology, including choice texts by writers of colour as well as queer and trans thinkers, allowing those new to these areas a privileged introduction to the kind of relational thinking they espouse and the re-construction of the self as an embodied, affective being.


Those participants already steeped in feminist theory and discourse will find a space to articulate their subjectivity through its discursive lens. The host will nurture participants' individual intellectual curiosity, showing them how to harness and metabolize their personal strengths and weaknesses.


By taking away the pressure of 'crafting' an essay from a space of existing knowledge, following instead a process-oriented method that allows for more joyous investigations into what constitutes one's eccentricities, the course uses 'fun' as its motivational fuel and hospitality as its core principle. 
Enroll now as seats are limited:
Min. seats: 5 | Max. seats: 30 | Language: English
Online Course ESSAYING THE SELF by Rosalyn D'Mello
"This course addresses what it means to 'personalise' an essay, to insert the self as a subject that uniquely receives and participates in the world. It eschews the over-emphasis on craft and language in lieu of enabling writers to access their subjectivity as a replenishable, self-sustaining resource. It guides participants to arrive at a fine-tuned, nuanced understanding of their own creative process, allowing them to be more alert to the role of sensory and emotional information received by the body as it relates to its environment. Through a series of playful exercises, imaginative prompts, and choice readings, writers will learn how to investigate deeper the sources of their joy, and its role in thinking, feeling, tasting, loving, and living.
By helping relate the personal to the political and the structural through a series of guided self-examinations and carefully structured modules, the writing course actively subverts the notion of a 'workshop' in which writing is 'prepared/polished' for publication. Instead, the focus is quite squarely on process, especially on harvesting one's sensual memories and emotions as grist for further reflections. The cross-disciplinary reading lists, cue-based writing exercises and curated exposure to performative 'challenges' will help writers befriend the ghost of self-doubt, and to harness its omnipresence as a navigational tool, thus stripping it off its crippling, debilitating power. Unlike conventional writing workshops, Essaying the Self relies on the semantic roots of the word 'essay' as a working methodology. Participants are encouraged, simply, to 'try out' different modes of articulating ideas and perform their research, reminding them of the active nature of writing as an art form.
The course considers anyone who has the desire to write as a writer, and is firmly non-hierarchical in its approach. It is most perfectly suited to anyone who is keen to work with memory as a narrative device. The 'host' will constantly intuit and improvise methods of catering to individual participants needs while fostering a spirit of collectivity and cohesion in order to make writing a less lonely, less alienating activity. We will together explore vulnerability, fragility, and ecstasy, and expose ourselves to brilliant texts. The underlying goal is to fall in love with the process of thinking and feeling, and to learn how to tap into our emotions and accommodate self-reflection, critique and care within the writing process." (Text & photo by courtesy of Rosalyn D'Mello)
Rosalyn D'Mello grew up as a 'Bombay-Goan' in Mumbai. She spent the last decade in New Delhi before moving to South Tyrol in the Italian Alps in 2020. As a freelancer, she has performed various callings as a third-world feminist writer, art critic, essayist, columnist, researcher, and editor.

Her debut memoir, A Handbook for my Lover was published by HarperCollins India in 2015 to critical acclaim while her art criticism has been published in a range of international anthologies, magazines and newspapers. 

Since 2016, she has been writing a weekly feminist column for mid-day exploring domestic itinerancy, political activism and life-writing. Her fortnightly columns for STIR synthesise memoir and art criticism. She is a TBA 21 Ocean Fellowship mentor (2021) and is the recipient of an India Foundation for the Arts art research grant, which has supported her forthcoming book for Oxford University Press on South Asian artistic studio practice. She is presently working on the sequel to her debut memoir, an autobiographical treatise on metabolic living, female mysticism, housewifely artistic legacies and feminist jouissance.
Save the dates in your calendar
The dates for the live lectures for this course will be published soon. You will also receive an email reminder for each video conference before it takes place.
Recording of Live Sessions
We record the live sessions so that they remain available for a logged in course participant until one week after the last session. Please check before booking a course the technical requirements as listed below.