Get Started
This course is currently closed
Please note that BAI will record the live sessions and check before booking a course the technical requirements as listed below.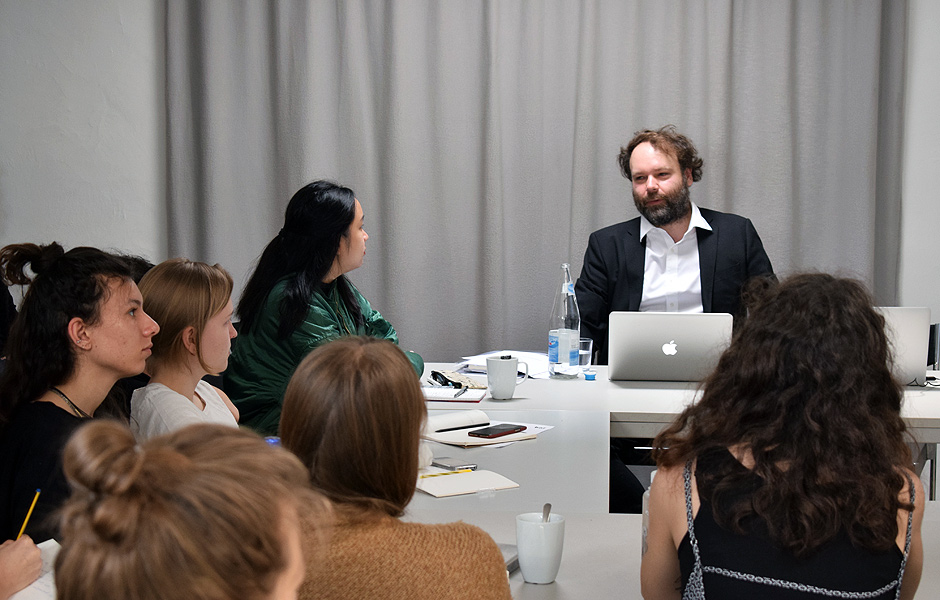 Habib William Kherbek is the writer of the novels Ecology of Secrets (Arcadia Missa, 2013) and ULTRALIFE (Arcadia Missa, 2016), New Adventures (left gallery, 2020) and the forthcoming Best Practices (Moist Books 2021). His video-poem playlist/collection/reading retrodiction (2016) was released by left gallery, other poetry collections include Everyday Luxuries (Arcadia Missa, 2018), and 26 Ideologies for Aspiring Ideologists (If a Leaf Falls Press, 2018). Twenty Terrifying Tales from Our Technofeudal Tomorrow, a short story collection, will be released by Arcadia Missa in 2021, and an art book, Still Dancing will be released by TLTR Press. Kherbek's essay "Technofeudalism and the Tragedy of the Commons" (2016) appeared in the first issue of Doggerland's journal, and he has contributed essays to the "Intersubjectivity" series from Sternberg Press. His writing has appeared in the award-winning Block Magazine, Tank Magazine, Rhizome.org, Berlin Art Link, MAP, Flash Art, Spike Magazine, Sleek, Samizdat, AQNB, and a number of other publications.
Online Seminar TELEMATIC ART AND PERFORMANCE: THE FUTURE IN HISTORY by Habib William Kherbek
"A series of workshops, readings, and discussions (perhaps even a performance) considering the legacy, evolution, and diversity of telematic art. Workshops/seminars will consider the technological aspects of telematic art, the temporal aspect, the historical positioning of the form, and emerging methodologies and practices. The history of telematic art is deeply enmeshed with the contemporary history of technology and its intersection with politics. Thus, the course will also explore the ways in which technology, policy-making and art have intersected over the decades during which telematic art matured as a form. Discussions will also consider how emerging cultural forms like LARP (live action role play) and MMPORG (massive multiplayer online roleplaying games) have borrowed from and inform contemporary telematic art. The advent of ubiquitous online meeting platforms will also be considered as a medium for and subject matter of telematic art. Participants will be asked to develop a proposal for a telematic art project over the course of the sessions for submission on the last meeting of class at which a panel of contemporary artists will consider the submissions and potentially offer opportunities for realising selected projects." (Text & photo by courtesy of Habib William Kherbek, photo: Habib William Kherbek during his lecture at BAI, April 2019)
BENEFITS
 

Participants will gain a robust understanding of the history and tenets of telematic art.

 

 

Participants will develop research, planning, and writing skills over the course of sessions.

 

The course will offer significant opportunities for networking between participants and with practicing artists outside the course.

 

Art historical subjects will be treated in some detail, offering insight into the ways in which the discipline has accommodated and contextualised telematic practice.

Readings will include major works from fields including cybernetics, art theory, media theory, and philosophy.

Participants will be offered personal attention from the tutor.

 

In-course feedback will offer opportunities to enhance presentation and speaking skills.

Subjects in technology, including telecoms, social media, and gaming will be treated in detail so that participants can engage, discuss and research these topics with confidence.

 
Min. seats: 5 | Max. seats: 30 | Language: English
Save the dates in your calendar
The dates for the live lectures for this course will be published soon. You will also receive an email reminder for each video conference before it takes place.
Recording of Live Sessions
We record the live sessions so that they remain available for a logged in course participant until one week after the last session.