Get Started
This course is currently closed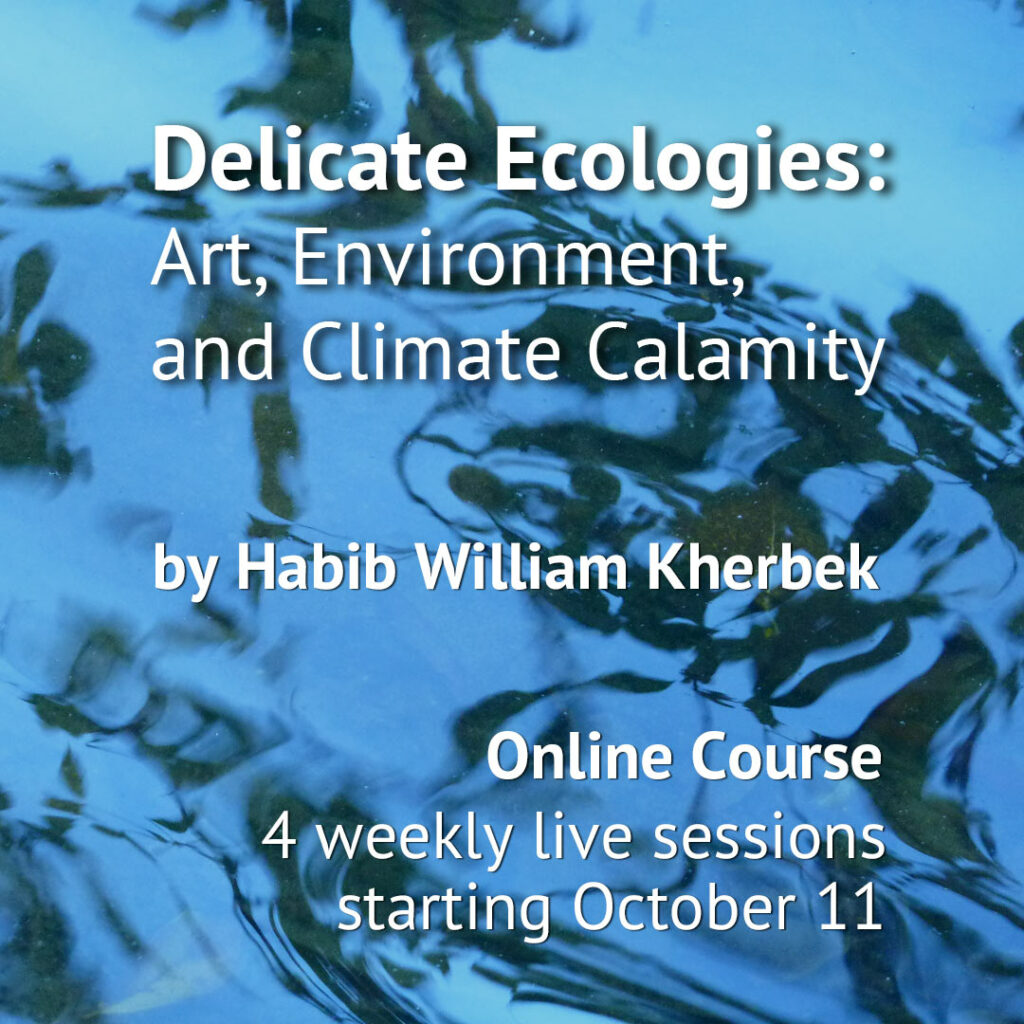 Participants will gain an understanding of contemporary art discourses related to environmental subject matters.
Participants will engage receive readings that will form a strong understanding of the concepts within art historical discussions .
Assignments will be offered to develop elements of an artist's practice and hone writing skills. 
The course will also seek to offer interdisciplinary insights from fields including geology, ecology, earth sciences, and botany. 
Participants will have direct one-to-one conversations with course conveners.
Enroll now as seats are limited:
Min. seats: 5 | Max. seats: 30 | Language: English
Online Course DELICATE ECOLOGIES: Art, Environment, and Climate Calamity by Habib William Kherbek
"In this course participants will explore the ways in which environmental concerns have informed visual art production over centuries. The course will trace understandings of environments, other species, and 'nature' itself as aesthetic and scientific concerns have progressed. Artistic responses to, entanglements within and challenges to ecological formations and the biosphere will all be discussed in detail across artistic media and disciplines. The course will consist of four sessions each centring on a different aspect of the relationship of art to the biosphere. Readings will include works by James Bridle, Rachel Kushner, Timothy Morton, Astridis Neimanis, Kathryn Yusoff, and others." (Text & photo by courtesy of Habib William Kherbek)
Your BAI Online Course Instructor
Ecology of Secrets (2013)
ephemera (2014) 
Ultralife (2016)
Pull Factor (2016) 
retrodiction (2016)
Everyday Luxuries (2018)
26 Ideologies for Aspiring Ideologists (2018) 
New Adventures (2020)
Twenty Terrifying Tales from Our Technofeudal Tomorrow (2021)
Technofeudalism Rising (2021) 
Best Practices (2021) 
Still Dancing (2021) 
black pillows (2021)
Entropia: The Childhood of a Critic (2022)
Habib William Kherbek is the writer of the novels Ecology of Secrets (Arcadia Missa, 2013) and ULTRALIFE (Arcadia Missa, 2016), New Adventures (left gallery, 2020), and Best Practices (Moist Books, 2021). His video-poem playlist/collection/reading, retrodiction (2016), was released by left gallery. Other poetry collections include Everyday Luxuries (Arcadia Missa, 2018), and 26 Ideologies for Aspiring Ideologists (If a Leaf Falls Press, 2018). Twenty Terrifying Tales from Our Technofeudal Tomorrow, a short story collection, was published by Arcadia Missa in 2021, and Still Dancing, an art book Kherbek curated and contributed images to, was published by TLTR Press in the same year. Abstract Supply (London) will release Kherbek's collected art writings, entitled Entropia, in 2022. He was the recipient of a research fellowship from the Sandberg Institute in 2020 during which time he wrote Technofeudalism Rising (left gallery, 2021). He is currently a fellow at the 0x Salon based at Trust in Berlin. His writing has appeared in the award-winning Block Magazine, Tank Magazine, Rhizome.org, Berlin Art Link, MAP, Flash Art, Spike Magazine, Sleek, Samizdat, AQNB, and a number of other publications. His Ph.D. is from the University of London, Birkbeck (2014). Kherbek produces music under the name dirtagnan, and oversees a subscription-only fashion project entitled HabibWear. 
Save the dates in your calendar
The dates for the live lectures for this course will be published soon. You will also receive an email reminder for each video conference before it takes place.
Recording of Live Sessions
We record the live sessions so that they remain available for a logged in course participant until one week after the last session. Please check before booking a course the technical requirements as listed below.