Get Started
This course is currently closed
Please note that BAI will record the live sessions and check before booking a course the technical requirements as listed below.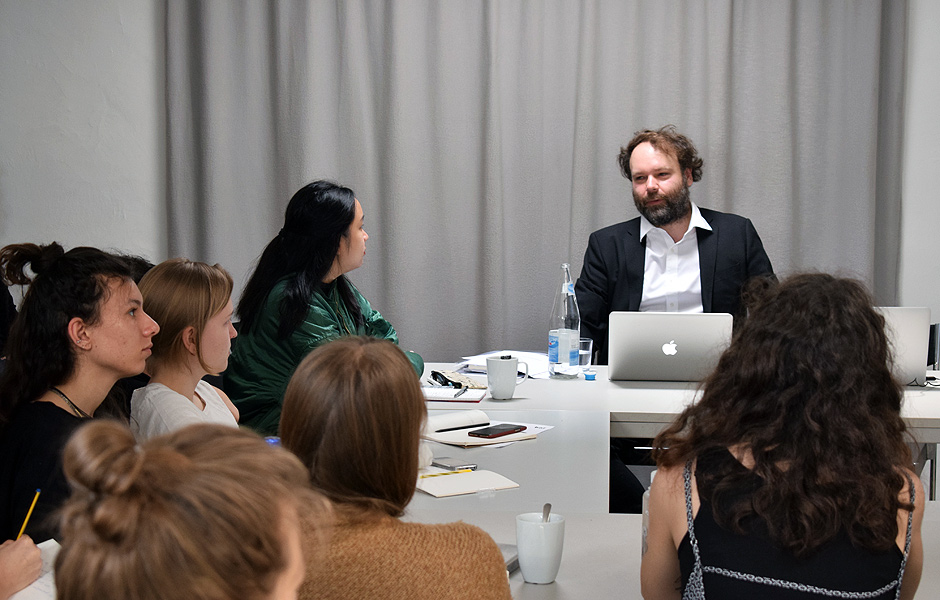 Habib William Kherbek is the writer of the novels Ecology of Secrets (Arcadia Missa, 2013) and ULTRALIFE (Arcadia Missa, 2016), New Adventures (left gallery, 2020), and Best Practices (Moist Books, 2021). His video-poem playlist/collection/reading, retrodiction (2016), was released by left gallery. Other poetry collections include Everyday Luxuries (Arcadia Missa, 2018), and 26 Ideologies for Aspiring Ideologists (If a Leaf Falls Press, 2018). Twenty Terrifying Tales from Our Technofeudal Tomorrow, a short story collection, was published by Arcadia Missa in 2021, and Still Dancing, an art book Kherbek curated and contributed images to, was published by TLTR Press in the same year. Abstract Supply (London) will release Kherbek's collected art writings, entitled Entropia, in 2022. He was the recipient of a research fellowship from the Sandberg Institute in 2020 during which time he wrote Technofeudalism Rising (left gallery, 2021). He is currently a fellow at the 0x Salon based at Trust in Berlin. His writing has appeared in the award-winning Block Magazine, Tank Magazine, Rhizome.org, Berlin Art Link, MAP, Flash Art, Spike Magazine, Sleek, Samizdat, AQNB, and a number of other publications. His Ph.D. is from the University of London, Birkbeck (2014). Kherbek produces music under the name dirtagnan, and oversees a subscription-only fashion project entitled HabibWear. 
Bibliography 
Ecology of Secrets (2013)
ephemera (2014) 
Ultralife (2016)
Pull Factor (2016) 
retrodiction (2016)
Everyday Luxuries (2018)
26 Ideologies for Aspiring Ideologists (2018) 
New Adventures (2020)
Twenty Terrifying Tales from Our Technofeudal Tomorrow (2021)
Technofeudalism Rising (2021) 
Best Practices (2021) 
Still Dancing (2021) 
black pillows (2021)
Entropia: The Childhood of a Critic (2022)
Online Seminar CRYPTOPIAS: CRYPTO CULTURES, CONTEMPORARY ART, AND VISIONS OF POSSIBLE FUTURES by Habib William Kherbek​
"This course considers the evolving future of crypto cultures within contemporary art, paying particular attention to the advance of blockchain technology as a means of both securing artistic value and as a creative medium in its own right.  
The advance of 'crypto cultures', shaped in part by crypto currency trading and discourse but also via message boards and other web-based community fora, is increasingly a feature of the contemporary art agenda. The course will enable participants to develop a vocabulary for participating in and understanding these subcultures within contemporary art, and the critical skills to consider the ways in which crypto culture is changing society, often with minimal input from those outside highly specialised fields. The course will integrate sources from the worlds of economics, finance, philosophy, contemporary art, ecology, critical theory, and  journalism. Participants need no specialised background in any of these fields, though familiarity with any or all of the fields will be a plus for in-class discussions. 
The aim of the course is to allow participants the capacity to reflect on the ways crypto-cultures are changing contemporary art, and where, how, and for whose benefits these changes are being made. The recent boom in NFT markets (and subsequent bust, and subsequent mini-boom) will also be discussed in some detail. The course will consist of four sessions each dedicated to different topics within crypto cultures." (Text by courtesy of Habib William Kherbek, photo: Habib William Kherbek during his lecture at BAI, April 2019)
BENEFITS
Those taking the course will be presented with a range of sources regarding crucial issues in the advance of crypto culture and crypto currencies and art. This will enable participants to confidently participate in discussions of these topics going forward.
Participants will be given the opportunity to write (or otherwise engage creatively) the topics discussed and will have one-to-one time with the course organiser to discuss specific questions and interests.
Course members will learn about the ways in which crypto cultures are changing art markets and will develop a greater understanding of the function of art markets more generally, with a view toward placing their own practice within these frameworks. 
The course will offer a number of important primary source materials for participants to use to familiarise themselves with landmark texts and events within crypto cultures. 
Min. seats: 5 | Max. seats: 30 | Language: English
Save the dates in your calendar
The dates for the live lectures for this course will be published soon. You will also receive an email reminder for each video conference before it takes place.
Recording of Live Sessions
We record the live sessions so that they remain available for a logged in course participant until one week after the last session.